About the Gift

Gift is a diaper brand under Guangzhou Zhongrou Consume Products Co., Ltd., founded by Yang Jun in September 2015. It mainly produces baby diapers, training pants (pull pants), soft tissue baby wipes and other products.
The Gift brand history
On September 7, 2015, he registered the Gift trademark registration;
In January 2016, the THIN thin series of diapers was released;
In March 2016, the training pants (pull pants) for the THIN thin series were launched;
In May 2017, GIFT launched baby hand wipes;
In October 2018, the Kiss Gift pH5.5 series diapers were launched;
In March 2019, the Gifts Pure Pure core series diapers were launched;
In June 2019, Caregiver Gift invited pediatrician Zhang Yastop to produce a series of videos on "How to Make Your Baby Comfortable for Summer", covering baby butt care (red buttocks), baby sleep, crawling, toilet training and other dry care products.
2019.10 The new gift soft tissue papers are launched
2019.12 Gift Pure Pure Music Core Pants Gorgeously Listed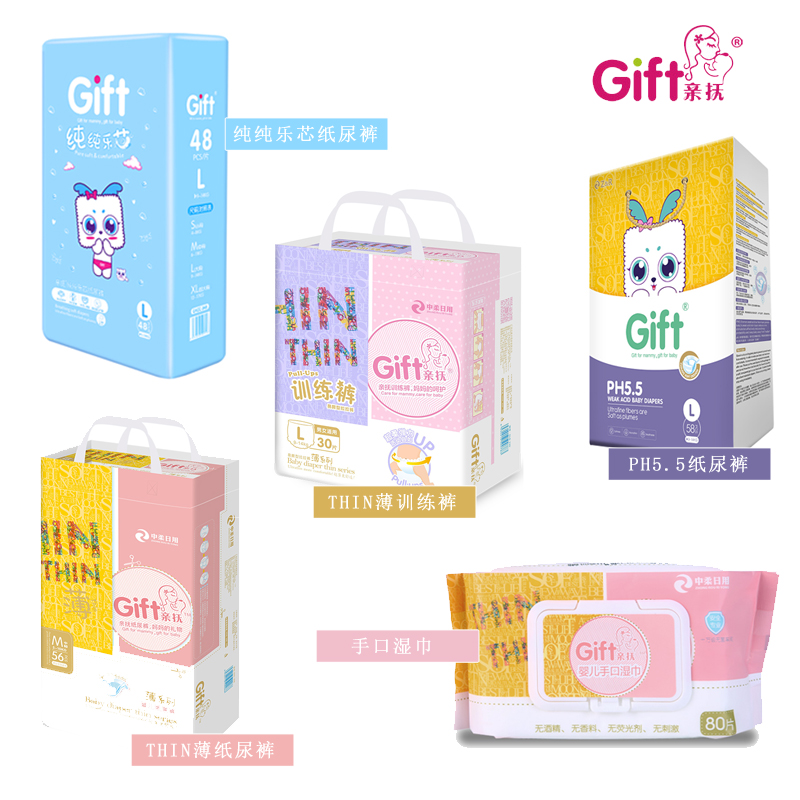 Promote Gift brand culture
GIFT diapers, mother's gift.
The meaning of "GIFT" is just like the touching of mother's full love for infants and young children. It is a precious gift from mother to children!